Do you know who are your PPC competitors? Knowing them will help you to focus your efforts on the areas where you can stay ahead of them. Here, we will learn ways to track your competitors and how can you stay ahead of the competition?
( This article is in context with Google Ads )
What is PPC Competition?
Everyone talks about PPC Competition in the marketing and advertising industry. It is directly related to your campaign performance. At times, advertisers do research on their competitors before setting up their campaigns like how much do my competitors spend on AdWords, Where my competitors are advertising, etc. This helps them to know the competition in advance and they can work on their campaign performance accordingly.
How Do You Stay Ahead Of The Competition?
1. Understand Auction Insight Report To Uncover Competitors
Google Ads auction insight helps to compare the ad performance with other advertisers who are competing with you in the same auction. It is a key component to understand your competitor's behavior for the same keyword you are bidding for.

You can look at the auction insight report at the campaign, ad group, and keyword level. Below are the metrics you can take to draw the comparison:
Impression Share – This metric tells you how often your ad received an impression
Overlap Rate – This metric shows how often, other participants received an impression that your ad also received an impression for.
Position above rate – It describes how often a competitor's ad received a higher position than your ad during the same auction.
Top of Page Rate – It shows how often the ad (yours or your competitors) was shown at the top of page results, above the organic listing.
Abs, Top Of Page Rate – This metric gives a sense of the location of your ad on the search page.
Outranking Share – This metric helps to know the times your ad ranked higher than your competitors in the same auction.
Analyzing these metrics against your competitors will help you to understand the shortcomings in your PPC strategies hence, you can make smarter decisions to enhance your campaign performance.
Analyzing your data with segments will provide you deeper insights. In Google Ads, you can segment the report by time and device.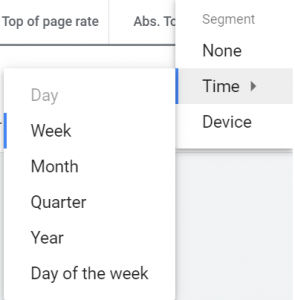 If you segment the data by time which is further divided into a week, month, quarter, year, and day of the week, you can get insight into how often your competitor is appearing on a certain day(s) or hour(s). You can decide to increase your bids accordingly during days when your competitor is highly competitive and lower your bid when they are lying low.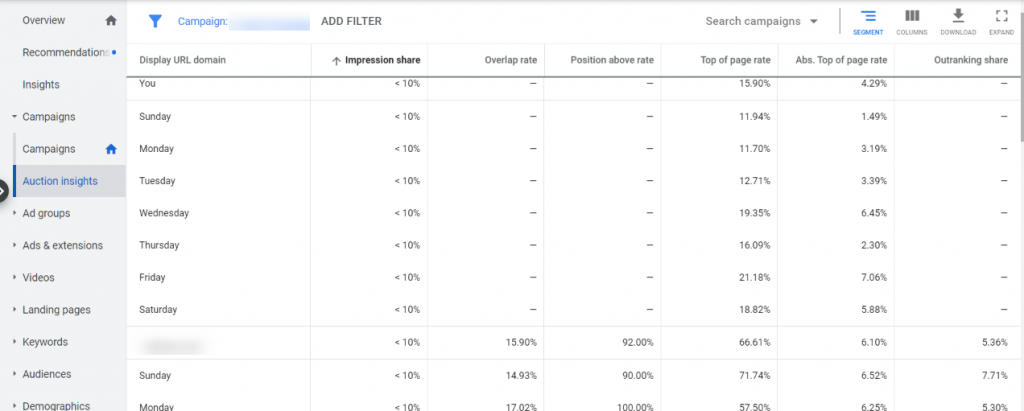 To know how you can use this report to track your competitors, click here.
2. Developing A Better Ad copy
Businesses need relevant traffic and ad copies help to do the same. An amazing ad copy will help to increase visibility, sales and eventually, it will help you to stay ahead of your competitors.
If you are interested to review your competitor's ad copies, you can take the help of the SEMRush Ad Copies Report. You do not have control over your competitor's ad copies but with this report, you will have an idea of what your competitors are offering? Are they using any specific call to action or any specific keyword? etc. And this way, you can analyze your ad copies and make changes suitably.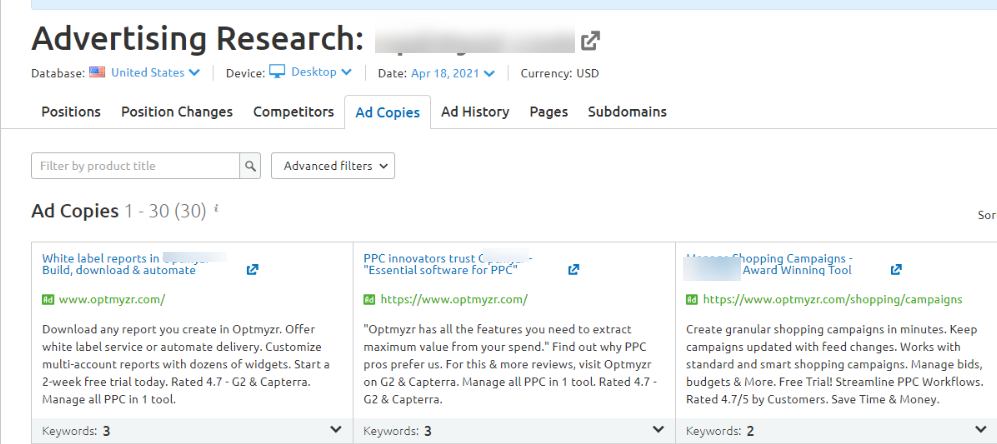 So, how to check competition for keywords? In the same report, you have the advantage to know the data of those keywords which triggered the competitor's ad. This analysis will let you check the keywords and optimize your ad copies accordingly to overtake your competitors.

Checking and refurbishing your old ad copies might as well do wonders. It will help to get more clicks and conversions.
Some ways you can improve your ad copies:
3. Conduct A Complete Google Ads Account Audit
Account auditing lets you unwrap areas in your PPC account that need improvement. It also recognizes possibilities that you missed out on while creating the campaign. Doing this account auditing will help you to overtake your competitors and enhance your chances to be in the front row.
What components do you need to look at while performing the audit? Learn here. You can also check out our Free AdWords Audit Report that helps generate valuable insights from your Google Ads account.
4. Set Bid Adjustments To Outsmart Your Competition
In Google Ads, bid adjustments allow you to increase or decrease bids for a specific location, time, device, topic, Ad Scheduling, etc. This will help you to closely monitor and control your bids. So, You can take the decision of spending more where your ads are performing well and spend less where the results aren't that promising. 
In device bid adjustment, you can increase or decrease bids as per the ad frequency on a particular device.

Location Bid Adjustment will help you to adjust bids for any geographical locations that are driving clicks.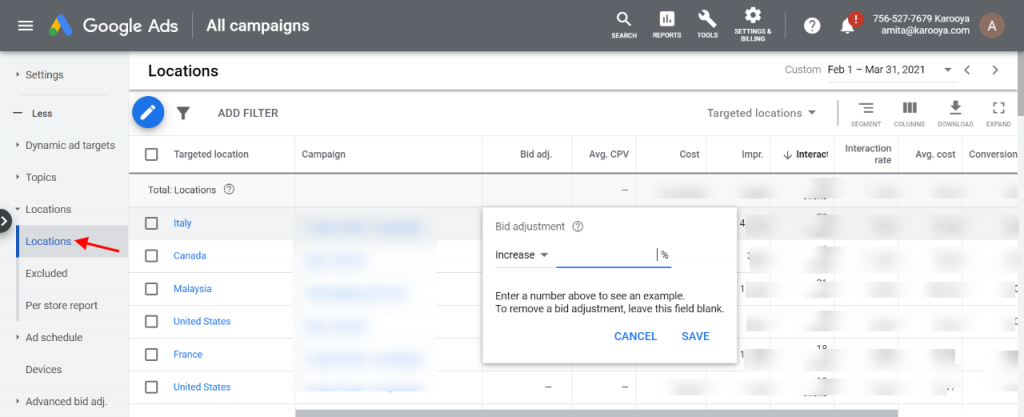 Ad Scheduling Bid Adjustment feature can be used if your business has certain operational days and hours. You can adjust your bids accordingly if you are aware of the day or hour your business touches the peak.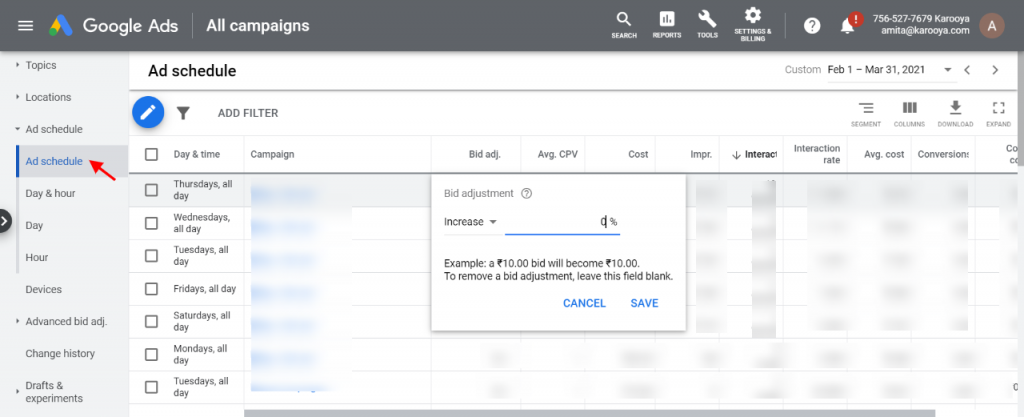 To know about these bid adjustments in detail, check out our post untitled How To Set AdWords Bid Adjustments
5. Ad Extensions To Stand Out From The Competition
An ad extension adds value to your product/services by providing a piece of additional and relevant information. Therefore, most of the time, ad extensions are an impressive way to enhance your CTR.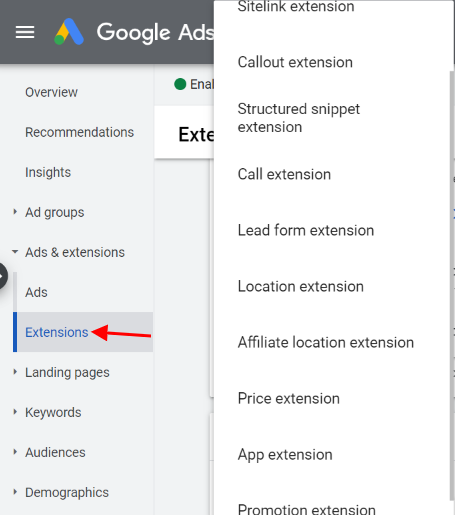 You can include a call extension, location extension, or any other ad extension as per your ad message to enhance your visibility.
If your competitors are not using these ad extensions then you have a chance to win the battle. Using ad extensions reap many benefits so if you are still not using them then get it going today.
6. Search Term Report To Find Competitors Keywords
By accessing the Search Terms Report, it becomes possible to keep a track of new and unbidded keywords which are getting you impressions for your campaigns. Use this report to find keywords that can be later competitive. Here is a post 'Analyze Search Terms To Optimize AdWords Performance' that will shed more light on how to go about utilizing the report.
To Conclude
Finding your Google Ads Competitors is not that difficult. Whenever you search for anything related to your product or services, you can find competitors' ads right there. There are a couple of tools we can use to know what our competitors are up to:
SEMRush
SpyFu
Google Ad Preview Tool
iSpionage
If you are not running the ads already, then these above tools will help you to see where your competitors are advertising, otherwise, Google Ads Auction Insight Report will help you to know the moves of your competitors.
After knowing the motives, you can draw some strategies to optimize your campaign performance to outperform them.
Related Links