Why last-minute shoppers as much important as early shoppers, how GDN can help acquire new customers, getting started with LinkedIn Website Demographics, PPC experts views on what the year 2018 will witness and more in this Week's PPC News recap.
Keep the lights on for the last-minute shopper this December
Customers turn up at the stores for last-minute shopping, advertisers must use that opportunity to drive shoppers to make the purchase. AdWords shares more insight in this.

Bing Ads Custom Audiences now integrated with Oracle DMP
With this new update, Bing advertisers can integrate first-party data through the Oracle Data Management Platform with the Bing Ads Custom Audience.
25 Experts on the Biggest 2018 PPC Trends
Danny Goodwin shares what the top 25 PPC experts say about what PPC trends the year 2018 and beyond will witness.
LIFE EVENT TARGETING NOW AVAILABLE TO ALL ADWORDS ADVERTISERS
Life Event Targeting allows advertisers to target users during major life events. Tanner Shroeder share more details about this feature which is now available to all AdWords users and how to get started with it.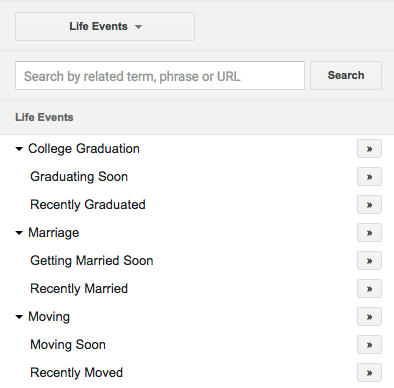 Import your call conversions with Offline Conversion Import
With this recent announcement, Bing Ads has established a new call conversion capability. The new Offline Conversion Import can help pull out your call conversion data.
GUIDE TO ACQUISITION ON THE GOOGLE DISPLAY NETWORK
Here is a full-proof guide that you can use the GDN platform to acquire new customers. Learn about what targeting options, tracking metrics, creatives etc. to put to practice.
Tips for Making the Most of Holiday Time Off
While this holiday brings a huge lot of opportunities, you would not want to disrupt your reporting flow when going on a vacation yourself. Here are some of the things to make a note of. Andrea Taylor discusses in this post.
[New Feature] Optimize Your Campaigns Even Faster With "Must Add" Negative Keywords
We, at Karooya, have added a new feature to our Negative Keywords Tool called the Must-Add Negatives which display the keywords that are performing really poorly and eating away major chunk of your budget.

How to Get Started With LinkedIn's New Website Demographics
Amanda Zantal-Wiener discusses about LinkedIn's Website Demographics, what it has to offer and steps to get started with it,
How To Use The Google Keyword Tool (And Slash Your Ad Spend)
Finding the right keywords for your AdWords campaign has many positive effects on your overall performance. Here are the 4 best practices to help you find the right set of keywords and scale your campaign.
Related Links: