Managing a paid search campaign manually becomes quite challenging as it requires time and effort. Automating some of those repetitive tasks with the a PPC automation tools can help shed some of that burden.
Amazon is the space where half of the e-commerce sales are made. It is helping small businesses and brands to grow by giving them access to a larger audiences.
Looking at its tremendous potential, we at Karooya have developed a PPC Automation tool for Amazon which is easy-to-use and helps you identify profit-killing areas.
In this post, we will explore more about our tool, how to access it, and what benefits you can reap by using it.
Negative Keywords Tool for Amazon Ads
Looking at Amazon's vast reach, advertisers are keen to invest in Amazon ads. Keeping the Amazon advertisers in mind, we built the Negative Keywords Tool two years back.
Our Negative Keywords Tool provides Campaign and Ad Group level negative keyword suggestions and something more:
Helps identify terms that are irrelevant to the business that is eating away a major chunk of the budget
Provides you with multi-word or single word recommendations that you can add as negative keywords to avoid unwanted clicks
Recommends terms similar in nature to an existing or suggested negative keyword (plural or different forms of the same term)
Add custom negative keywords. You can get performance data for a keyword to determine whether you should add it as a negative keyword or not. If it is a multi-word keyword you can test to check the performance of certain keywords and remove it if required. Example, for a suggested negative keyword such as black shoes for men, you can search for the performance of a certain keyword such as black shoes and basis that decide the best.
Our Negative Keywords Tool has been helping clients save on their ad spend. It also helps save time spent in manually finding the terms eating away major chunk of your budget. It gives recommendations based on a thorough research done on your account and suggests terms that are
poor performers (have not successfully generated sales or conversions)
have a high ACoS compared to the average of the campaign
Here is a quick guide on how to use our Negative Keywords Tool
That's not it! We have more features that you can make use of.
Archive Search Term Data: Search Term data provides meaningful insight into your ads. The more data you have, you can know the behavior of a specific search term.
With Amazon Ads, the search terms data is available only for the last 60 days but with Karooya's archival feature, you can access all the search term data.

Ad Scheduling: When your business operates on a specific day or time or if your ads are performing well on certain time or day, or, if your ads are performing well during some days or hours when compared with the rest, then ad scheduling becomes quite important.
Unlike other paid search platforms, Amazon Ads doesn't yet have ad scheduling. But we offer a solution. You can get started with the ad scheduling feature once you sign up to use our Negative Keywords Tool dashboard.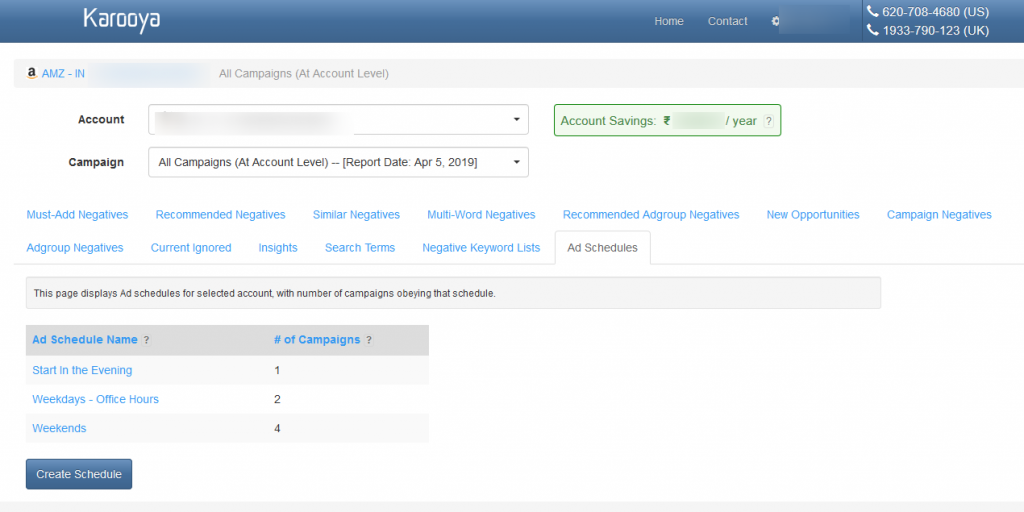 Shared Negative List: As your business grows, your campaigns and negative keywords grow too and it might become tedious to add common negative keywords from one campaign to the other. In this scenario, shared negative keyword lists come in handy.
The convenience of the shared negative keyword list has been missing from Amazon Ads. But not anymore. We have built this feature for Amazon Ads which is very simple to use.

Search Box: To find a negative keyword for a selected campaign or negative keyword list, our Search Box feature is quite useful.

Apart from these amazing features, you can also gain access to some of the reports which helps to analyse your campaigns performance. Here is the brief description of these reports:
Great Converting Keywords Report: This report gives advertisers insight into which keyword themes are working well for the campaign; and hence are highly recommended to be included in the campaign's targeting.
Duplicate Keyword Report: This report helps identify the duplicate keywords, where they are (campaign or ad groups) along with the performance details.
Performance by Keyword Match Type: With this report, you get an insight of the various match types are performing for your campaign.
New Ad Group Ideas: With this report you can compare performance of various keywords in the ad group and decide whether to move the performing or non-performing keywords to a different ad group.
Cross-Ad Group Impressions Report: This report gives you an insight about a single query getting matched across different ad groups.
Low CTR Keywords Report: Here you get the report of those keywords that have low CTR compared to rest of the campaign.
Sign up to take benefits of our Negative Keywords Tool and reduce your advertising cost on Amazon Ads. Feel free to contact us on support@karooya.com
Note: Karooya's negative keywords tool is Free for accounts with a monthly spend of less than $3000. Learn more here.
Related Links