In today's world, where everything has become so digitalized, Amazon advertising is flourishing like a luxuriant tree.  The best way for advertisers to take benefit of this profitable platform is "Negative Keywords".
These keywords are very important for your amazon campaign as they improve the ad performance and reduce the cost. But, how can you find them? let's find out here.
Search Query Report: Search query report is a great source to check which keywords are performing well and which are not. Irrelevant keywords can be added as negative keywords to avoid wasted ad spend.
As a search query report provides important information about your campaign, the more data you have, your analysis will be better. With Amazon Ads, the search terms data is available only for the last 60 days but our New Archival Feature will allow you to access the search term data beyond 60 days.
Negative Keyword Tool: As amazon advertising growing rapidly, advertisers are anxious to put their whole soul into it. Karooya's Amazon negative keyword tool provides negative keyword suggestions on campaign and ad group level and thus save ad spend.
Research: Doing research to find negative keywords will help you learn how to stop spending money.  You can identify poorly performing keywords by looking at its ACoS (a high ACoS and low on performance) or if that particular keyword has a good click-through rate but with no conversion, then it could be considered as a negative keyword.
There are two ways to research for irrelevant keywords:
Search Bar: You can start by searching your probable keywords on Amazon. For example, you are the seller of Plastic Dolls and you would want to check for unrelated keywords so your ad does not show up to the unrelated audiences. Search for plastic dolls on Amazon.  Amazon will show relevant search terms. Go to the auto-suggestions and see what other terms people are searching for with regards to plastic dolls. Irrelevant suggestions will help to choose the right phrase to be used in your negative keyword.
You can also take help from Google auto-suggest to search for possible keywords.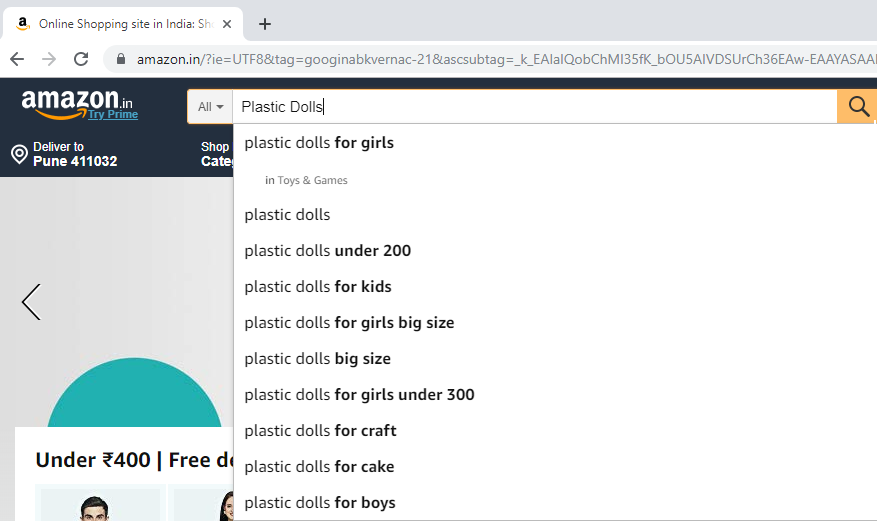 Identifying Unrelated Words: Take the help of Google to find words that you do not want to be connected with your products. Take the same above example of Plastic Dolls. Looking into the below search results, do you see any unrelated results? Let's find out.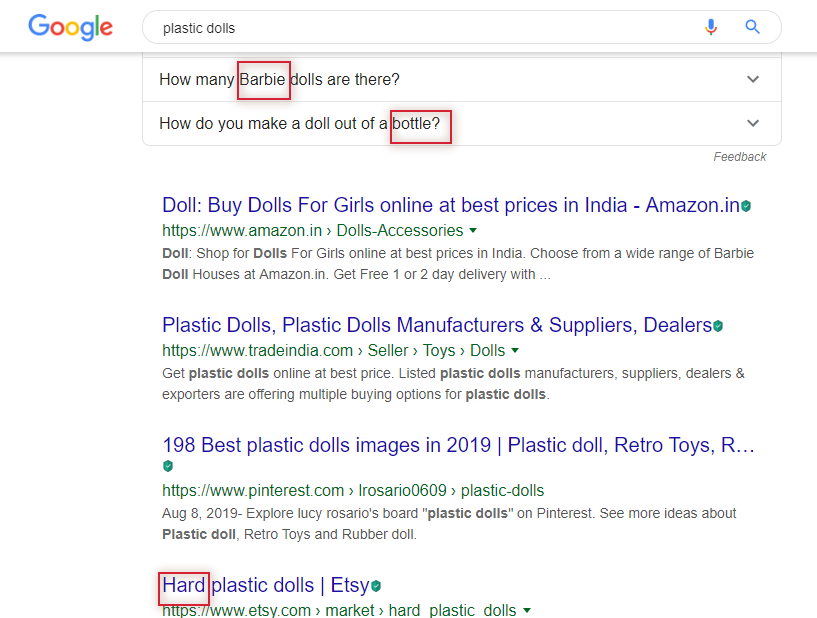 The doll you are selling, it's not a Barbie so "Barbie" can be a potential negative keyword.
Your plastic doll is not made of hard plastic, so "hard" can be a good negative keyword.
It is not the doll that is made out of a bottle, so  "Bottle" would also be a good negative keyword.
This helps to decide how you want your ad to be found by relevant audiences.
To Conclude: Negative keyword is like an undisclosed weapon which can help in reducing ad budget without affecting your product's visibility and conversions. You need to monitor your campaign's performance on a regular basis to see where the budget is getting spent.  If you want to get quality searches then you should take the help of negative keywords.
Note: Karooya's negative keywords tool for Amazon Ads is a powerful tool that saves your ad budget and time. It is Free for accounts with a monthly spend of less than $3000. Learn more and sign up today to improve your ACoS.
Related Links: