A lot has already been spoken about Negative Keywords. It's not a new concept for advertisers. They help to omit those search queries which are not important and focus on the ones which matter to your business. They are also a way to achieve desirable growth and success and helps advertisers to improve their ACoS.
(All the following is discussed in context to Sponsored Product Ads)
Before we start, lets understand a little about the campaign types available in Sponsored Product Ads. There are two type of campaign types that you can choose from:
Manual Campaign – Here, advertisers have to set keywords manually for sponsored products ad campaign.
Automatic Campaign – In this type of campaign, advertisers only select the budget, rest of the process like selecting keywords, Amazon does it based on the product information.
Identifying Negative Keywords From Search Terms Report
Search Terms or Search Queries are  words or phrase which needs to be entered into Amazon to find desired item.  If you would like to improve targeting of your campaign, you need to look into your search query report. One can get valuable insights from the search query report when he has run the campaign for a while. Report will give you insight on such terms which are not driving results, you can add them as negative keywords.
Why Negative Keywords
They help to:
Improve your product target to the most relevant searches
Improve click through and conversion rate
Reduce your advertising cost
An improved conversion rate will improve your ACoS
 Negative Keywords Match Type
These keywords help advertisers to reach to the right audience which in turn improve the campaign performance. To do this, you need to associate the right Match Type to the Negative Keywords in order  to control how your ad gets displayed. There are two negative keyword match type available with Amazon Ads:
Phrase Match – This match type excludes your ads to show up for search queries which are in the same order as the negative keyword. For instance, the negative keyword pink shirt will eliminate your ad to show for search queries like girl pink shirt or big pink shirt but might show your ad for pink girl shirt. 
Exact Match – This match type has to be matched exactly with your search query. For the same example as above, your ad will not be displayed for pink shirt search query however, for search queries like pink shirt for girls, big girls pink shirt, shirt in pink color for adults, etc your ad will show up.
For most of the advertisers, finding and  adding negative keywords are little overwhelming. Here is step-by-step guide for you to know "how you can add negative keywords in Amazon Ads"
Step 1. Login to your seller central account
Step 2 Go to Advertising

Step 3 To see all the campaigns, one needs to scroll down a bit on the page. Click on any of your running campaign

Step 3 Click on Negative Keyword

Step 4 Go to Add Negative Keyword button

Step 5 Select the Match Type and add negative keywords and save it.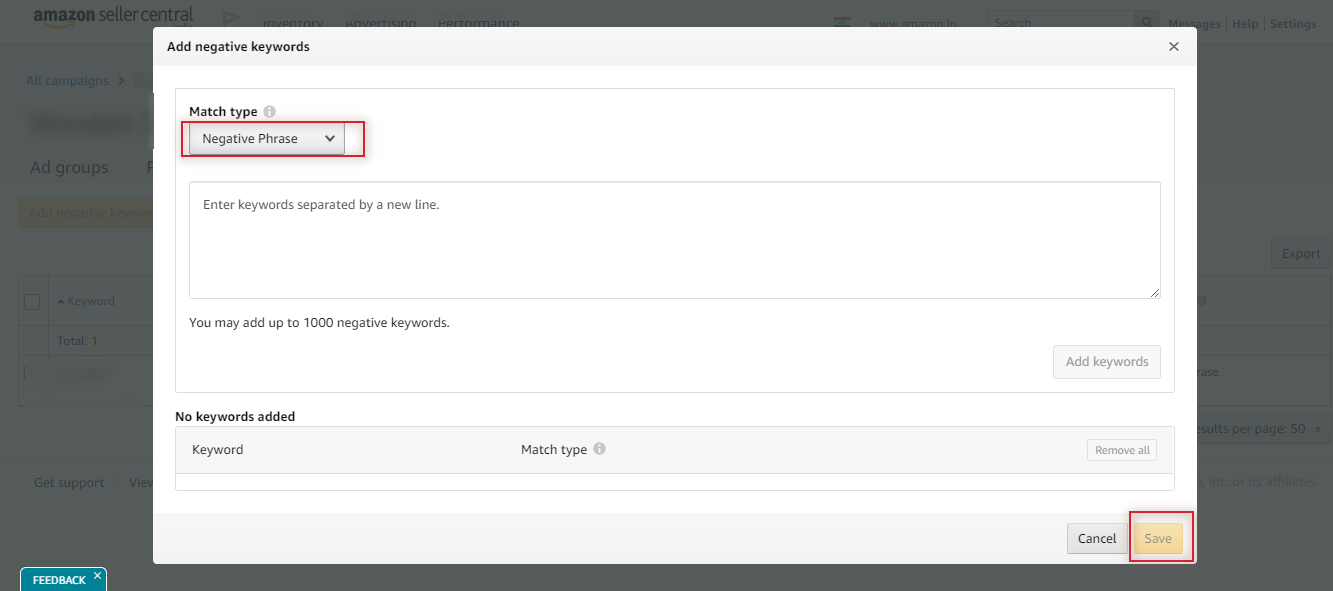 Note: Our negative keywords tool for Amazon Ads provides superior n-gram based recommendations. We offer this free negative keywords tool with a generous free tier. Learn more and sign up today to improve your ACoS with the cutting edge tools.
Related Links: