Now you can add negative product targets for Amazon Ads from Karooya's Negative Keywords Tool dashboard. We couldn't have been happier!
Negative Product Targeting – What is it?
Like how negative keyword blocks your ads from showing for irrelevant search queries, negative product targeting excludes irrelevant brands and products from your targeting choice. This is an effective step towards reducing your advertising cost. Restricting your targeting and displaying your ads at relevant places, can also help impact your campaign performance.
In Amazon ads, negative product targeting is available for Sponsored Product Campaigns. In case of automatic targeting, negative product targeting is allowed at campaign level as well as at adgroup level. For campaigns that use manual targeting, the negative product targeting is allowed for the ad groups that use product targeting.
A quick recap of what Karooya's Negative Keyword Tool offers
2 years back, we announced Negative Keywords Tool for Amazon Ads. With our tool advertisers could achieve the following:
Identify terms that are irrelevant to the business and are eating away major chunk of the budget
Multi-word or single word recommendations that you can add as negative keywords to avoid unwanted clicks
Recommends terms similar in nature to an existing or suggested negative keyword (plural or different forms of the same term)
Add custom negative keywords. You can get performance data for a keyword to determine whether you should add it as a negative keyword or not. If it is a multi-word keyword you can test to check the performance of certain keywords and remove it if required. Example, for a suggested negative keyword such as black shoes for men, you can search for the performance of a certain keyword such as black shoes and basis that decide the best.
And we didn't stop with that. We added the search archival, compare performance change, shared negative keyword list and ad scheduling feature soon to our tool. With these extended features advertisers were benefited with exclusive access to information and insight. More details about all the features here
Now after having served Amazon customers successfully for past 2 years, we are adding another feather to our cap.
Add Negative Product Targeting from Karooya's Negative Keywords Tool
Today we are glad to announce that Karooya's negative keyword recommendation engine now also generates recommendations for negative product targets. These negative product targets can be added with a single click from Karooya app.
Karooya generates negative product recommendations at campaign level as well as at the adgroup level. The recommendations are shown along with the negative keyword recommendations.
You can view/compare historical performance metrics for the product page (ASIN) before adding it as negative target. You can also check the product page by following a link shown next to the recommendation to confirm if it's relevant to your products/ads.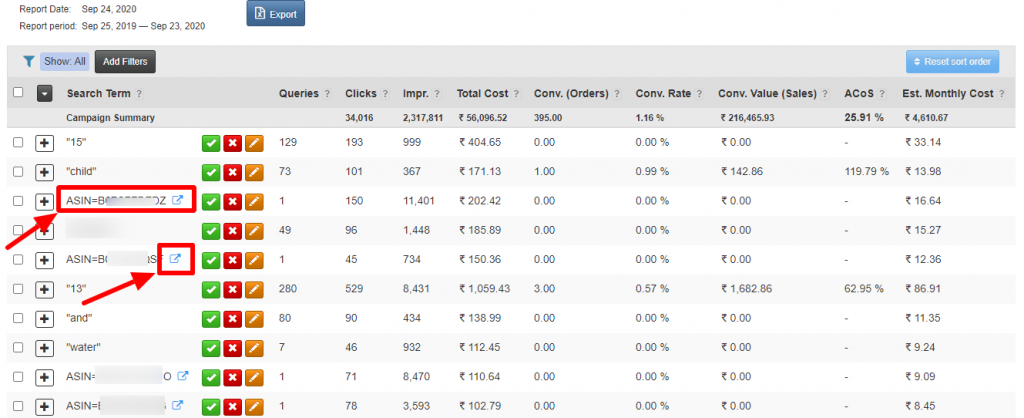 So, if you haven't yet already, then click here to start recognizing your negative product targets along with negative keywords.
Note: Karooya's negative keywords tool for Amazon Ads is a powerful tool that saves your ad budget and time. It is Free for accounts with a monthly spend of less than $3000. Learn more and sign up today to improve your ACoS.
Related Links: