We have built Karooya's blog as a PPC powerhouse that keeps advertisers updated with relevant and useful information. This year, we dealt with content around the current pandemic, released Google Ads scripts, updated our Negative Keywords Tool, shared how to guides and more. Here is a recap of some of our product updates & blog posts in the year 2020.
Blog Posts By Karooya
We are focused to give quality content to our readers. Below are handpicked posts from 2020 that stood out.
How to Set Up Audience Ads in Microsoft Ads – To expand your reach , Microsoft Audience Ads are one of the solutions in Microsoft Advertising. How can you create audience ads, find out here.
How To Use PPC Search Term Data To Drive Content Strategy – Finding the right keywords to optimize your website is a tricky task but not anymore. We at Karooya has developed a Google Ads script which gives insight into the search term trends.

How to Increase Search Impression Share? – When we do not see the desired results while running a paid search campaign, we tend to analyze our campaign by looking into search impression share. Learn about factors which cause it to become low & how can you improve it.
Negative Keywords List For The Current Pandemic – To tackle the Coronavirus situation, businesses have been silently working on taking the appropriate measures. One of the ways in which this can be done is by adding terms related to the pandemic as negative keywords.
Review Amazon PPC Automation Tool Features – PPC automation tools help to manage some of the repetitive task of your paid search campaign. Negative Keywords Tool for Amazon ads is easy-to-use and helps you identify profit-killing areas.

Google Ads 'Search Terms Report' Change & Its Impact – A Case Study – In the month of September, Google announced limiting the search terms report with terms having significant data. We at Karooya have analyzed two of our accounts to see the impact of the 'search terms report' change.
Must Have Negative Keywords List For Your Google Ads Account – Knowing the importance of negative keywords we have put together a comprehensive negative keywords list to add to your Google Ads account.
Google Ads Script For Search Term Trends – A handy Google Ads Script that identifies search terms that are losing impressions, clicks, or conversions. It also helps to compare the data year on year to see how the account's behaviour has changed.
Product Updates By Karooya
We keep updating our products/ services now and then to give users a more optimized experience. Here is a recap of the updates from this year.
[New Feature] Filter Added To Karooya's Negative Keywords Tool – Our negative keywords tool has helped many of our clients to save money & improve conversions. We have updated our tool with a new feature to help focus on specific data that meet a certain criteria.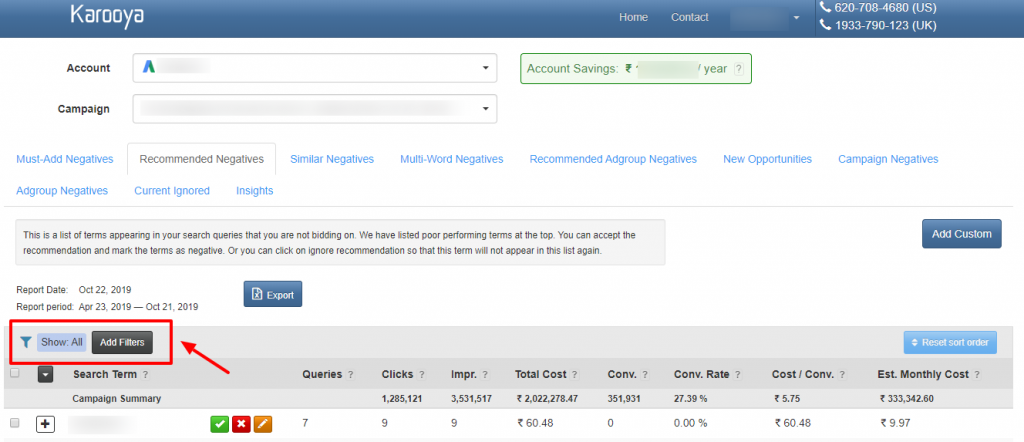 Negative Keywords Tool Now Supports Sponsored Brand Campaigns – As negative keywords are now available for Sponsored Brand Campaigns, we have also updated our tool with the same.
[New Feature] Discover and add negative product targets to Amazon Ads – Negative product targeting excludes irrelevant brands and products from your targeting choice. Now you can add negative product targets for Amazon Ads from our Negative Keywords Tool dashboard.
Related Links